Bucatini all'amatriciana
A classic of Roman cuisine.

This dish has been discussed to the point of exhaustion and has created real religious wars. I propose the "classic" recipe, which cannot be more classic. But if you want to experiment, you can take a cue from the references at the bottom of the page.
A tip: if the bacon and pecorino are of good quality, the dish will be good, more or less in any way you do it.
ingredients (2 people)
bucatini (or spaghetti): 200gr
pork jowl: 100gr
peeled tomatoes (or sauce): 250gr
pecorino: 70gr
extra virgin olive oil
vinegar
white wine
salt
chili pepper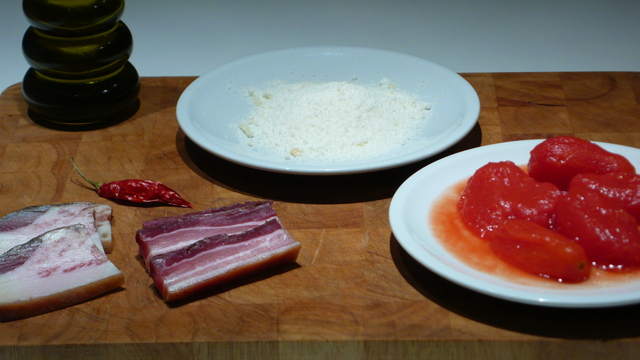 instructions
Cut the bacon into cubes (or slices) and brown it in the oil, without browning it too much.
Deglaze with a little wine and very little vinegar.

Add the chopped peeled tomatoes and chili pepper.
Season with salt and cook for a few minutes.

Cook bucatini (to the tooth) and stir them in the pan with the sauce and pecorino.

Serve by sprinkling other pecorino cheese on top.