Focaccia Gianluca style
A soft focaccia to be completed according to your tastes.
ingredients (3 people)
flour type 0: 300gr
wholemeal flour: 200gr
olive oil: 50ml
water: 400ml
sugar: 1 tbsp
salt: 1/2 tbsp
brewer's yeast: 7gr

seasonings to taste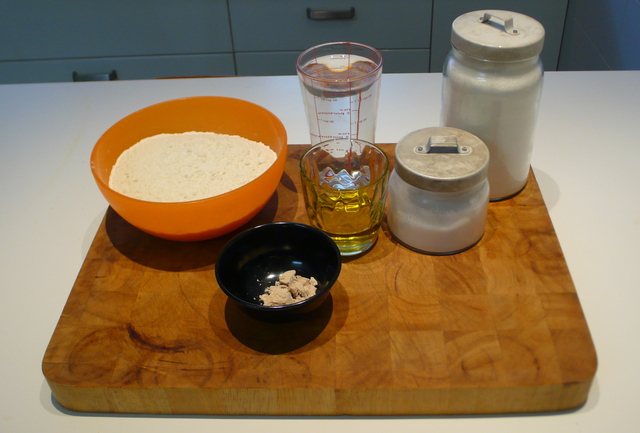 instructions
In a bowl, dissolve the yeast in the warm water. Add the oil.

Add the sugar to the flour. Knead adding a little flour at a time. If you have a planetary mixer, it is better, otherwise use a fork (the dough is very liquid and impossible to work with your hands). Finally add the salt.

Spread in an oiled pan, cover with cling film and let rise for about 4 hours.

Season to taste and cook in a preheated oven at 200 ° for 25 minutes.

In the photos I put tomato and mozzarella, bacon and pecorino cheese, onions and tuna. I added the mozzarella and pecorino 5 minutes before the end of cooking.